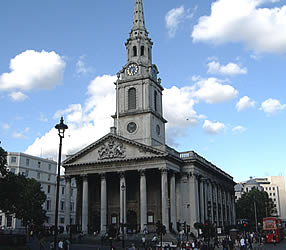 If you know me at all, you know that I am prone to hyperbole.  I mean, I probably use hyperbole more than anyone in the world, maybe even the universe - seriously.  I've been known to say things like, "This peppermint mocha/chicken taco recipe/serrated knife is the best thing ever!"  What can I say, I am enthusiastic.
But now I have a real problem.  After overusing the superlative in my descriptions of silly things like coffee and kitchen utensils, I have lost credibility to describe something truly extraordinary.  This week I experienced something that simply cannot be described with the same words I have previously put to use in exclamations about SNL skits and diet soda.  What's a chronic exaggerater to do when faced with something beyond exaggeration?
For what it's worth, in light of the cheapened value of my endorsement, the sound of stringed instruments playing inside the St. Martin-in-the-Field Cathedral in London is the most beautiful sound I have ever heard in my life.  
We were in a hurry, hoping to get in a quick visit to the British Museum before going to Evensong at the Westminster Abbey.  We would have hustled right by the cathedral, but my father-in-law just can't walk by a church without peeking inside.  My mother-in-law laughed and rolled her eyes as he darted in the door ("He's seen a million churches and he still has to go look!").  I told her we'd be right back and followed him in.  There was a rehearsal taking place at the front of the church, some sort of stringed ensemble.  The musicians were young, maybe college-aged.  The director was standing with his hand on his hip, giving direction casually without concern for the tourists coming in and out.  He raised his hands and the musicians readied their instruments.
And played.
Before I could even form a thought in my head, tears sprang to my eyes.  I blinked them back, trying to soak in and commit to memory the rich, velvety sound of the strings.  I can't say too much more about it because, again, I don't want to use the same words I've used for stuff like automatic mini-van doors and free shipping.  I'm only writing about it here because I don't ever want to forget that moment, short as it was.  Highlight of my trip so far.  More to come soon!